While thousands of visitors respect this beautiful landmark just outside of Old Forge, New York, a handful of thoughtless individuals intentionally continue to mark up the interior with graffiti. In order to do this, these individuals purposely carry up cans of spray paint, markers or sharp objects to deface what most of us feel is a sacred place. It is heartbreaking to those of us who volunteer our time and YOUR donations to keep this tower looking good for all the wonderful folks who do love this fire tower. Violators can be prosecuted for defacing State property. If you see something, say something to these thoughtless people or take a photo of the violators and send it to us and we will forward them to our DEC District Office in Herkimer, NY.
2016 marked the 99th birthday of the steel tower on Bald Mountain. The observer at that time a century ago was one interesting fellow - Walter "Coon" Briggs.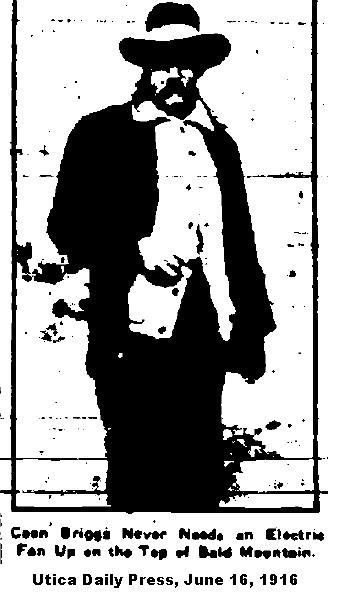 Walter Briggs was born in Boonville, NY on July 4, 1860, the eldest of his parents Naamon and Cynthia Briggs' nine children. As a young man he worked as a farm hand but became a skillful marksman. This led to a position for a few years as a sharp-shooter with Buffalo Bill's Wild West Show. Walter bore a remarkable resemblance to Bill Cody. He had a similar bushy mustache and long flowing hair. He frequently donned a raccoon hat during the winter that earned him his nickname "Coon."
In the 1880s, Coon returned home and took up guiding sportsmen in the Adirondacks. He built a camp to host his clients along present-day State Rt. 28 at the base of Bald Mountain above Third Lake on the Fulton Chain. Wearing a long braid topped by broad-brimmed western hats, plus his remarkable skill with a rifle and salty stories of his experiences in the western frontier helped distinguish Coon from other well-known Adirondack guides.
When Coon Briggs was first appointed as a fire observer on Bald Mountain by the State Forest Commission, he used the rustic wooden tower that had been on the summit since 1912. A tent camp provided his shelter until 1919 when Coon constructed a log cabin to protect him from the elements. . Newspaper reporters took notice of this unique fellow and wrote articles about the "Sage of Bald Mountain" who befriended the clouds and became darn good at predicting the weather. The publicity and nearness to the resorts in the Old Forge-Fulton Chain-Big Moose region brought hundreds of visitors up the trail annually to see the tower, the magnificent views, and meet the irascible Coon Briggs.
In the spring of 1922, Coon Briggs was relieved of his duties as a summit observer by Forest Superintendent Curtis R. Pettis for his failure to use more tact and courtesy towards visitors to the conservation station. He had been on probation for the past three years due to complaints about his gruffness. Strangers did not understand his personality and the State felt it was obliged to let him go when he did not mend his ways. His good friends and fellow guides still enjoyed stopping by his cabin to listen to his stories and share a tasty home-brewed beer that he kept chilled in the creek nearby. In April 1926, the Adirondacks lost one of its truly unique characters when Walter Coon Briggs died in a Utica hospital following a brief illness. Thousands of people across the country mourned his death and tens of thousands more have climbed the steps to his perch on top of Bald Mountain since to the tower he helped erect on the summit in 1917.
Volunteers Needed
The FoBM committee is very much in need of more volunteers to help us on our spring and fall workdays. Several of our original members are not able to work anymore due to health issues. You don't need to live here in Old Forge to volunteer. A simple form needs to be filled out and filed with the DEC office in Herkimer to be covered by workman's comp. Send us a note and we'll provide the form and details and notify you of scheduled workdays. If necessary, we'll find you accommodations with a committee person here in Town and reimburse you for your travel expenses. We would love to find a volunteer willing to put up and maintain a facebook page for us to network and share stories with other hikers.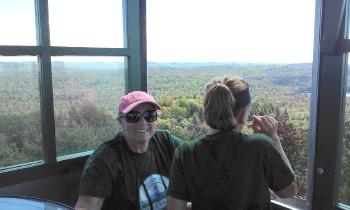 Congratulation to the Friends of Stillwater Mountain in another part of the Town of Webb who re-opened their fire tower this past summer. The new one-mile trail is not difficult thanks to their hard work and the views are absolutely stunning!
Thanks for Visiting our Site!
- send a note if you would like to help.
Back to Friends of Bald Mt. Homepage

Created by: Masterpiece Productions of the Adirondacks
Webmaster
Last updated: December 26, 2016