The historic tower on the summit of Bald Mountain had a subdued appearance on our first workday in the spring. In spite of the long, extremely cold winter here in Old Forge, several hundred folks made the climb up in January-March according to the log book. This trip was only two days after we learned of the death of a beloved member of our community, David Ross Leach. Dave was raised in Old Forge and was the Athletic Director and Coa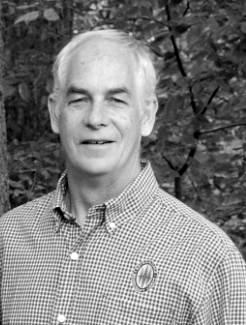 ch at the Town of Webb Union Free School. The Leach family has also operated Adirondack Woodcraft Camp since the 1970s - where Dave and other family members have introduced thousands of their young guests from around the world to the beauty of the Adirondacks.
The 300-acre Woodcraft Camp is located just north of Bald Mountain. Every summer Dave and his family have brought their young campers to the summit to enjoy the panoramic views. They also want to instill a sense of stewardship in this next generation to respect the tower's historic role in preserving the surrounding forests from devastating fires that plagued the Adirondacks for decades. We are forever grateful to Woodcraft Camp for generously providing a supply staging area for the helicopter that brought up essential restoration materials in the 2004 airlift.
At the request of the family, the FoBM Board sent a donation in Dave's memory to their Forever Woodcraft Foundation that provides tuition-free support for nearly twenty percent of Woodcraft campers. More information on sending in a donation can be found at the Adirondack Woodcraft Camp website.
PATCHES UPDATE
We have SOLD OUT our supply of FoBM patches. For more than a year, we stopped supplying the Old Forge Hardware Store and Kiefer's Souvenir Village in Old Forge in an effort to keep that last remaining patches available for online orders. Our thanks to our two local stores for helping with this successful fundraising project. The committee is discussing whether to re-order more patches or design a new one that would celebrate the upcoming 100th anniversary of the tower in 2017. Send us your thoughts.
FIRE ON THE TRAIL in MAY
Scary news when the Old Forge Fire Department (OFFD) was dispatched to a fire on the trail to Bald Mt. in May of this year. As many of you might know, there is the trailhead on the Rondaxe Rd. leading from a large parking area but there is also the old trail off of Route 28 that crosses private property and is no longer maintained. Crews were sent in both directions until an active fire was located about a third of the way up on the Rondaxe Rd. trail. It was a bone-dry stretch of weather that month. Careless hikers had started a campfire that quickly spread from the rocks to adjacent trees. Thankfully some other hikers descending the mountain were able to contact authorities who got the OFFD onsite to extinguish the fire before extensive damage was done. This trail is maintained for day-trippers only, not for overnight camping or campfires. Such careless actions put not only the natural environment at risk, but the health and well-being of the responders as well. We must continue to educate each other, as the Leach family has done for decades, to treasure this magnificent Adirondack Park for the benefit of the next generation of residents and visitors.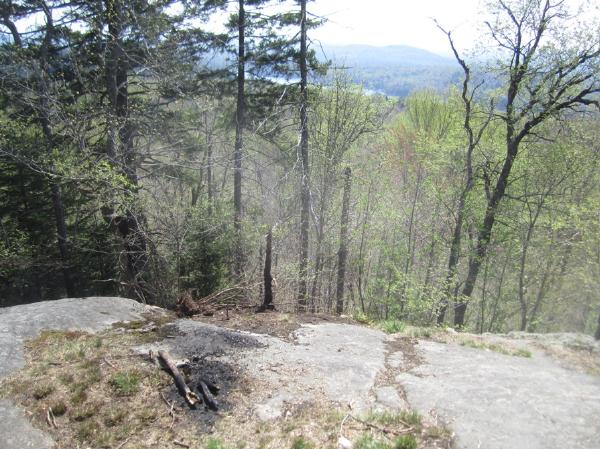 On a second work day in the summer, Larry Coon from Rochester re-stained the tower stairs and landings. He als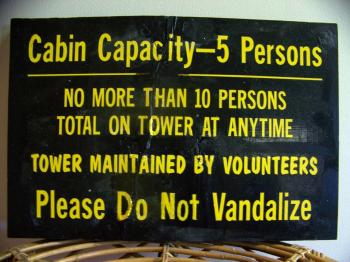 o rescued the DEC sign that had been ripped off the tower and broken into two pieces. It is the sign that requests a limit of 5 people in the tower at any one time AND requests that visitors do not vandalize this historic site. As you can see from the photo, Larry completely restored the sign back to its original condition.
In September, three committee members, Peg & Barb from Old Forge and Larry Coon along with his wife Corinne, went back up for another workday. In addition to re-attaching the DEC sign, the interior of the cab was painted, and trash was collected and brought down for disposal.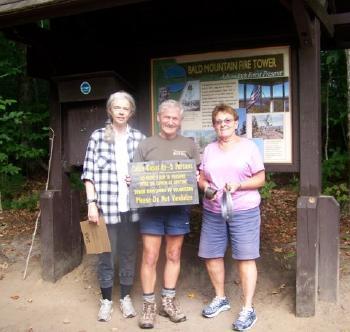 Barb reported that a month earlier she met a young man from Paul Smith's College acting as a steward. This mystery man was part of the college's The Adirondack Watershed Institute Stewardship Program (AWISP) that checks launch sites in a coordinated effort at the local, regional and statewide levels to detect and arrest the spread of aquatic invasive species (AIS). Although we were not aware of this gentleman's assignment on Bald Mt., we would love to hear from him about his experience at the tower.
As you can probably see from the photo, our volunteers at the present time are primarily retirees and we sure could use some younger folks joining us on the FoBM committee. It is a simple process to fill out a form that goes on file with our DEC representative Scott Healy in Herkimer, NY. This process provides workers comp to volunteers. Two weeks notice of a workday will be sent to you via email, but you are not obligated to come to meetings or every workday if you so choose. And . . .folks you meet at the top in our "office" are ever so grateful for our work!
On a final note – we are pleased to hear the Friends of Stillwater Mountain in another part of the Town of Webb are working hard to reopen that trail and tower to visitors. They are selling T-shirts to raise money for their restoration work. You can find them online both through a google search or on facebook.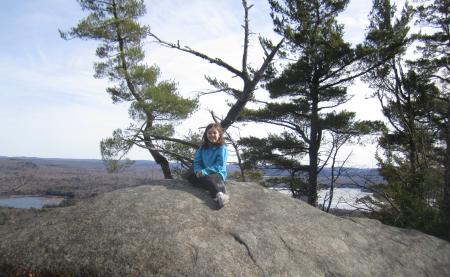 Thanks for Visiting our Site!
- send a note if you would like to help.
Back to Friends of Bald Mt. Homepage

Created by: Masterpiece Productions of the Adirondacks
Webmaster
Last updated: December 19, 2015