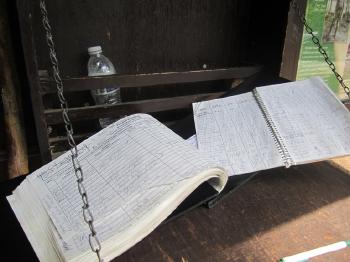 Thousands of visitors registered at the kiosk again this year, even using a second sign-in book in the high summer season. The FoBM made several trips to the tower since spring for trash pickup and maintenance. A small amount of graffiti was covered over inside the cab and VERY little trash is ever found
BUT. . . the BEST NEWS TO REPORT is that the vandals who spray painted the rocks along the trail - they were apprehended & made to cleanup their destructive work under the supervision of DEC. (See photos below)
In other NEWS - Patches are still available by contacting us online and at Kiefer's Souvenir Village Store & the Old Forge Hardware Store in Old Forge, NY. FoBM were sadden to hear of the destructive vandalism in October at Mt. Arab Fire Tower near Tupper Lake. The FoBM Executive Committee Board voted to send our Friends at Mt. Arab a $200 contribution to assist with the repairs to their tower and ranger cabin. Please consider sending a donation to Friends of Mt. Arab, Box 185, Piercefield, NY 12973
Officers for our little group remain the same for 2012: Co-Presidents Ann McBride & Barb Ball, and Sec't/Treas. Peg Masters. Volunteers are always welcomed - send a note if you would like to help with a 2012 workday.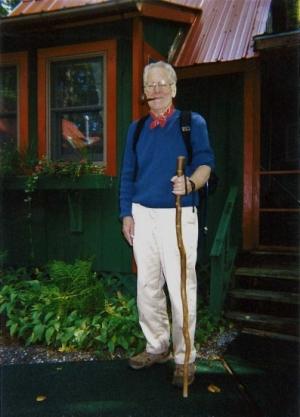 FoBM Extend our Condolences to the Plummer Family
Frank W. Plummer, a long-time resident of Keene, NH, died on Thursday, July 21 at age 79 while hiking Bald Mountain with members of his family. Frank passed away on the trail "with his hiking boots on and his walking stick in his hand" stated family members.

Photo and note below from The Adirondack Express, August 2, 2011
"The Plummer family wishes to express a very humble and heartfelt thank you to everyone who assisted in responding to the call for help that day. We are so grateful for the assistance, support and caring we received on the trail and in the days afterwards. To those of you on the trail who jumped in and helped, thank you for your generous spirit and the gift of your skills, physical strength and desire to help a fellow hiker. To the rescue personnel and emergency responders, thank you for your professionalism, and your commitment to the well-being and safety of your communities. What everyone did that day was exhausting and difficult. Thank you so much. As a family, we are blessed with years of memories of hiking, paddling, camping and loving the Adirondacks. We thank you for your help and support. You can bet you will see us next year. We have to finish our hike to the fire tower.

Sec't/Treasurer Peg Masters has located several
Historic Documents about Bald Mountain - Links Below in PDF Format
1859 Trip To Brown's Tract & Bald Mountain
From the Rome Sentinel-July 27, 1859 - Link
1880 North Woods Trip to "Foster's Observatory"
Bald Mt. with reference to Nat Foster
From The Ontario Co. Phelps Citizen, July 29, 1880 - Link
1891 Hike to Bald Mountain by Railroad Builder Dr. William Seward Webb
Escorted by Civil War Veteran & Local Guide Jack ShePpard
From the Boonville Herald, March 26, 1891 - Link