Bald (Rondaxe) Mountain
2010 Fire Tower Restoration Project Progress Report
Website Provided By
Friends of Bald Mt., Box 914, Old Forge, NY 13420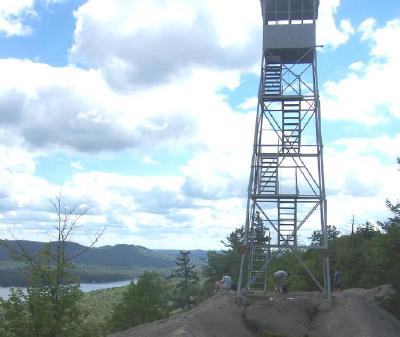 Springtime on the Summit of Bald Mountain, Old Forge, NY
The Friends of Bald Mountain Committee extend our thanks to Janice Walter Ferrick for Eight - YES, EIGHT years of service as our treasurer. Janice and her husband Patrick were part of our original steering committee and integral volunteers in the success of our tower restoration project. Due to a new teaching position for Patrick, the Ferricks have moved from the area and we wish them well in their new Central NY home. Since all mail during this time has gone to Janice's address, we've had to change it to Secretary Peg Masters' address at PO Box 914, Old Forge, NY 13420. It'll hopefully be updated everywhere here on our website, but inaccurate on any old brochures that still may be floating around.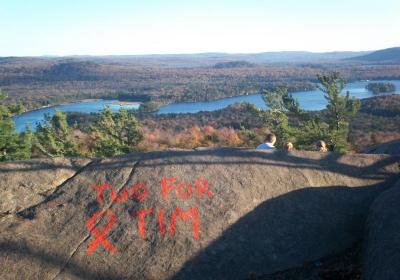 Committee members put in several trash pickup days this season - and once again we thank all those who carry-in and carry-out. Very little trash was found on the trail or the summit this year. Sadly, on a trip up in October, a disturbing defacing of the beautiful granite rocks at the summit had taken place. (photo left) It breaks our hearts to see such destructive behavior of this historic site. Due to the lateness of the season and an abundance of wet weather this fall, we will have to postpone an attempt to remove the paint and the graffiti in of the cab until the spring of 2011. Anyone willing to help may contact us at: send us a note!
Our thanks to the Rondaxe Lake Yacht Club for purchasing another 20 patches again this year. And we thank Kiefer's Souvenir Village, Main St., Old Forge - for their ongoing sale of patches. They still have patches for sale there if you are in town, or send us a request by mail or email, and we will send a patch out to you.
Friends of Bald Mountain (FOBM) are delighted to see that a Friends of Stillwater Fire Tower (FOSFT) group has formed. The Stillwater tower is unsafe to climb at this time, according to DEC spokesman Stephen Litwhiler (Explorer Editor Phil Brown blog July 1, 2010). In September, FOBM member Peg Masters met with FOSFT members Jim Fox and Harry Peck on top of Bald Mt. for a tour of the restoration work on our tower. The FOBM committee looks forward to working with this neighboring fire tower group in any way possible. The FOSFT committee is currently looking for additional volunteers and may be reached through their website link.
Friends of Stillwater Fire Tower Committee Jim Fox and Harry Peck examine the Bald Mt. Fire Tower steps and footings (left) and photograph the windows and views from the tower.
---
Virtual Tours - Thanks to Friends on YouTube
For those of you who love this summit and tower from other parts of the country or are unable to climb it anymore, you might enjoy this 8 minute video of the hike with Ed Ressler and his dog Scrappy from the website www.cnyhiking.com! Click here to view
Gary VanRiper's Mohawk Valley Living #189 Segment on the Fire Tower Challenge -This 2.36 minute video shows
our trailhead kiosk and just briefly near the end - our FOBM Patch! Click here to view
Contrary to a few rumors around Town, the Balancing Rock on the summit of Bald (Rondaxe) Mt. is still overlooking the Fulton Chain of Lakes!